[ad_1]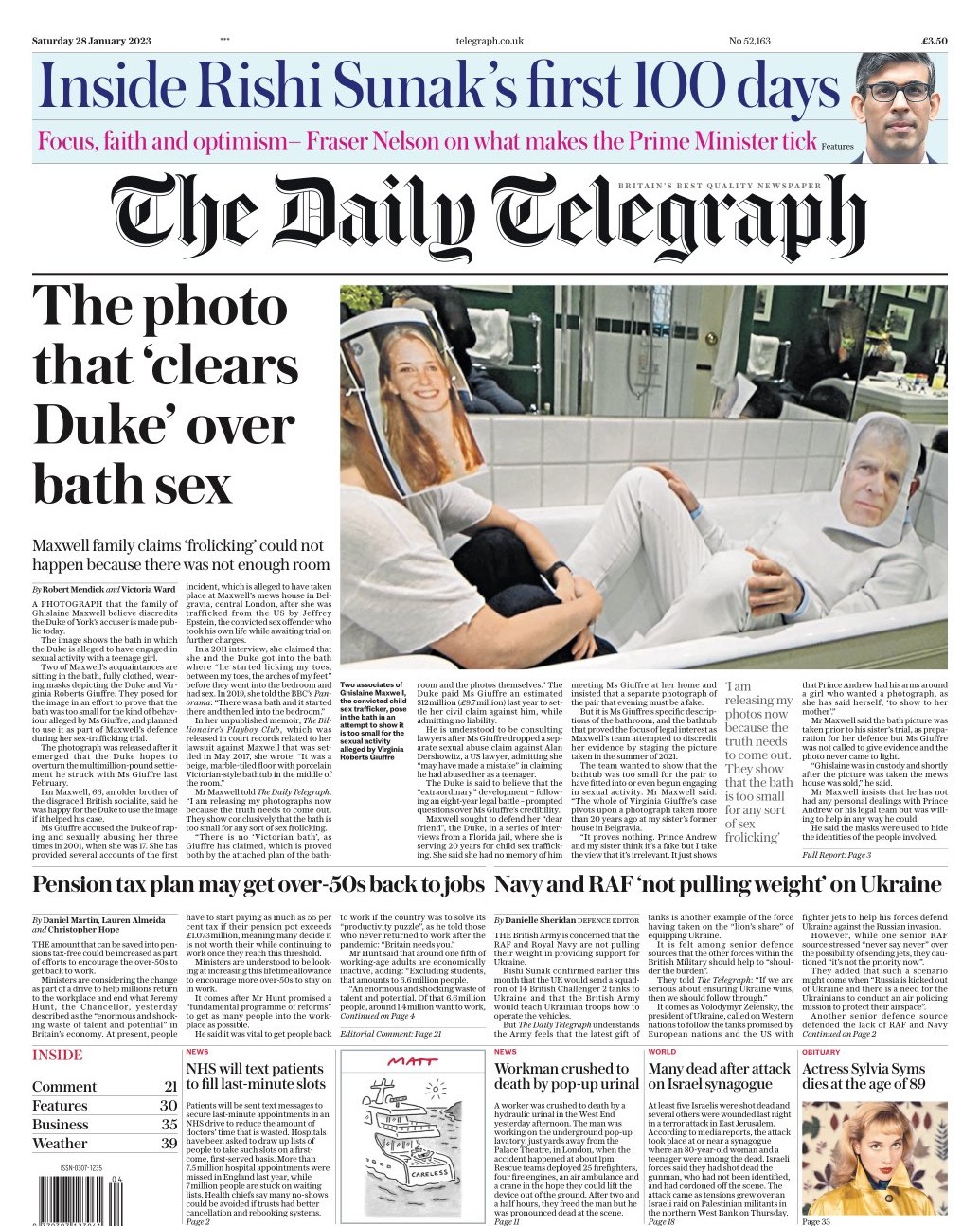 Prince Andrew has clearly hired a new publicity team and they are TERRIBLE. For the past week, we've been inundated with all of these breathlessly contemptible stories about how Andrew will try to overturn his settlement agreement with Virginia Giuffre and how he's assembled a "war chest" to clear his name. There's an outsized focus on trying to "discredit" Virginia, who was abused and trafficked for years by Jeffrey Epstein and Ghislaine Maxwell when she was in her teens. Part of Virginia's story is that Andrew forced her to take a bath with him at Maxwell's London home, and following the bath, Andrew raped her. She was 17 years old at the time. Well, check out the Telegraph's cover on Saturday: a photo arranged by Ghislaine Maxwell's family to "clear" Andrew. But wait, it gets so much worse.
A photograph that the family of Ghislaine Maxwell believes discredits the Duke of York's accuser has been made public. The image shows the bath in which the Duke is alleged to have engaged in sexual activity with a teenage girl. Two of Maxwell's acquaintances are sitting in the bath, fully clothed, wearing makeshift masks depicting the Duke and Virginia Giuffre.

They posed for the image in an effort to prove that the bath was too small for the kind of behaviour alleged by Ms Giuffre, and planned to use it as part of her defence during her sex trafficking trial. The photograph was released after it emerged that the Duke hopes to overturn the multi-million pound settlement he struck with Ms Giuffre last February.

Ian Maxwell, 66, an elder brother of the shamed British socialite, said he was happy for the Duke to use the image if it helped his case. Ms Giuffre accused the Duke of raping and sexually abusing her three times in 2001, when she was 17. In a 2011 interview, she claimed she and the Duke got into the bath where "he started licking my toes, between my toes, the arches of my feet" before they went into the bedroom and had sex. In Dec 2019, she told BBC Panorama: "There was a bath and it started there and then led into the bedroom."

Mr Maxwell told The Telegraph: "I am releasing my photographs now because the truth needs to come out. They show conclusively that the bath is too small for any sort of sex frolicking. There is no 'Victorian bath', as Giuffre has claimed, which is proved both by the attached plan of the bathroom and the photos themselves."
So here we are, with the invisible contract visible to all – the Telegraph running rape and trafficking apologia on their front page on behest of Prince Andrew. One of the oldest conservative newspapers in the UK publishing a photo – provided by a family member of a convicted abuser and human trafficker – which they claim "disproves" Virginia's story. A word about the actual photo – it disproves nothing. There clearly is room for two people.
Keep in mind, Andrew is the same human trafficking rapist who sat down on BBC Newsnight and said he felt he needed to break off his friendship with Jeffrey Epstein in person, and that's why he stayed at Epstein's New York mansion for years after Epstein took a sweetheart deal from the FBI on all of the pedophilia, abuse and trafficking charges. Andrew didn't have to step down as a working royal because of Virginia's many statements – he stepped down because of HIS OWN statements in that Newsnight interview. For all of this talk about Andrew wanting to clear his name, he was the one who sullied his name in the first place.
Photos courtesy of Avalon Red, Backgrid, Cover Images, cover courtesy of the Telegraph.


[ad_2]

Source link