[ad_1]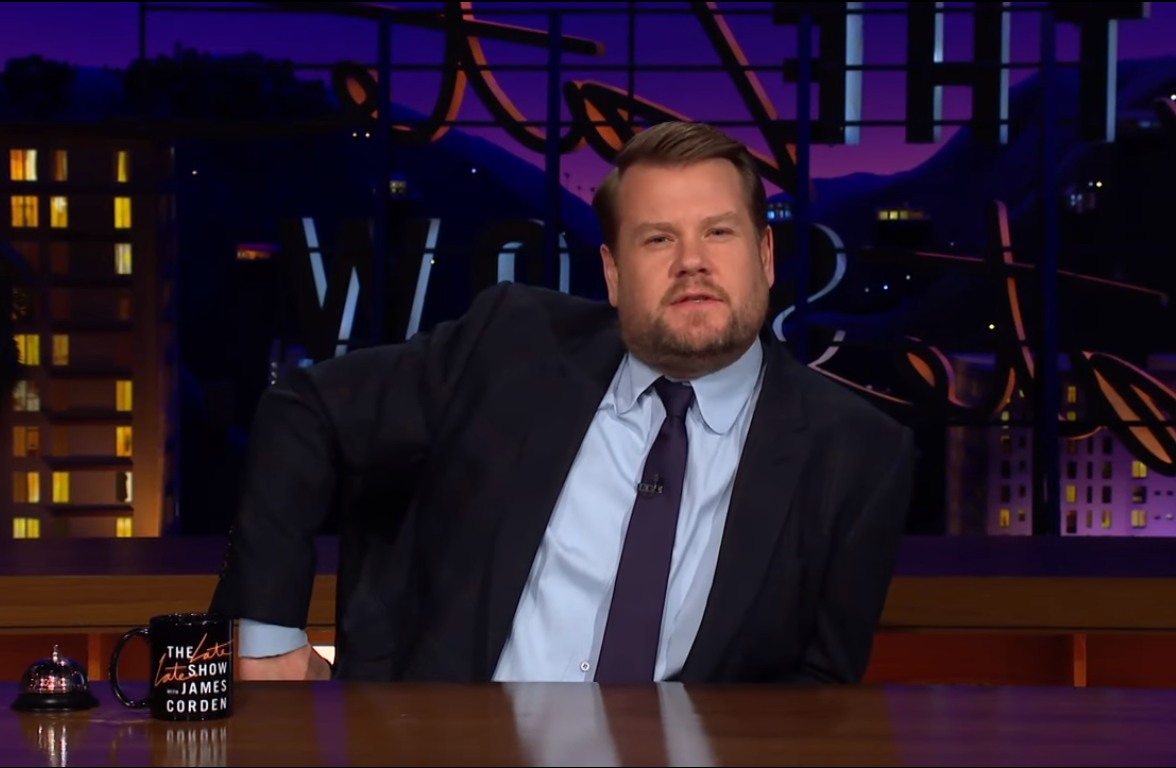 A week ago, Keith McNally announced that he was banning James Corden from all of his New York restaurants, especially hotspot Balthazar. McNally explained why, posting two manager's reports about Corden's rude and abusive behavior towards Balthazar's staff. Hours later, McNally rescinded the ban, saying that Corden had called him and personally apologized. Story over, right? Wrong. Days later, Corden chatted with the New York Times to promote some other project, and Corden basically said he did nothing wrong, that everyone abuses waitstaff over eggs, and he's not going to take the story seriously. In the wake of that NYT interview, McNally banned Corden yet again. It's also notable that Corden wasn't on air last week with The Late Late Show. He said, in the NYT piece, that he would probably address the story when he came back on air. That's exactly what he did:
James Corden returned to The Late Late Show on Monday night after a week-long hiatus and started things off by addressing the allegations made against him by restaurant owner Keith McNally. The late-night show host, 44, told viewers it was never his "intention" to upset those at the New York City restaurant Balthazar and said that, if he is allowed back to the establishment, he'd like to apologize in person.

"Last week, there were stories about me being banned from a restaurant. And at the time I considered, you know, tweeting about it or Instagramming about it," he said at the top of his show, adding that he likes to adopt a "British attitude" about things: "Keep calm and carry on" and "Never complain, never explain."

However, he added, "As my dad pointed out to me on Saturday — he said, 'Son, well, you did complain, so you might need to explain.' Look, when you make a mistake, you've gotta take responsibility. So I thought I would, if it's okay, share with you what happened."

Corden said that when he was in the Big Apple dining with friends at one of his "absolute favorite restaurants," his wife Julia Carey was given food "she was allergic to" after explaining her food allergies. When it came back repeatedly wrong, Corden said, "In the heat of the moment, I made a sarcastic rude comment about cooking it myself." He added, "It is a comment I deeply regret. I understand the difficulties of being a server. I worked shifts at restaurants for years… I have such respect, and I value anyone that does such a job. And the team at that restaurant are so great. That's why I love it there."

Corden explained that the staff brought out champagne "as an apology," and he thought the matter was over.

"I've been walking around thinking that I hadn't done anything wrong, right? But the truth is, I made a rude comment, and it was wrong. It was an unnecessary comment. It was ungracious to the server," he said.

After owner McNally posted that Corden was banned from his eatery, Corden said that he "immediately" got his phone number to address what happened.

"We had a good talk. He appreciated the call. I was happy that we got to clear the air, and I felt like we dealt with it privately, you know?" Corden said. "But by this point, the story was out there, and people were upset." He added, "As I said to the owner that day, that [if] I've ever upset anybody, ever, it was never my intention. It just wasn't. And I love that restaurant. I love the staff there. I hope I'm allowed in again one day. So when I'm back in New York, I can go there and apologize in person, which is something I will absolutely do."
His wife is allergic to egg whites?? That's what the whole thing was about – his wife ordered an egg yolk omelet and there was some egg white in it. Besides, McNally made it clear (initially) that it wasn't just one incident, it was a series of rude statements and abusive behavior. Corden's playing a little fast and loose with what he's been accused of. It's also funny (to me) that Corden truly refused to apologize for his behavior when he spoke to the NYT because he wanted to "perform" his apology on-camera and really "sell" it. Complete with a folksy story about his father.
Photos courtesy of Backgrid, Instar, screencap from 'The Late Late Show'.


[ad_2]

Source link